Online Stuff
Coolidge's ideas have made it into the electronic world. Below is a sampling of the plethora of online DPP work.
Jim Henson Hour—Dog City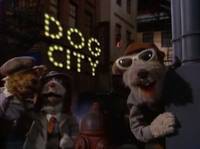 In 1989 the short-lived series "The Jim Henson Hour" showed an episode titled "Dog City" and at the beginning of the episode, Jim Henson says "Did you ever see one of those old paintings of a bunch of dogs sitting around playing cards? Well that inspired us to create a whole city of dogs, based on the style of the gangster movies of the 30s and 40s." The special is a 1940s film-noir parody with dog puppets inspired by Coolidge's paintings (plus cameos by the Muppet Rowlf and Sprocket from Fraggle Rock).
You can watch a semi-legit version on Vimeo.
Poker Commercial
Vcpoker.com made a commercial parody advertising one of their poker tournaments.
Mouse Pad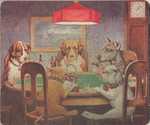 A mouse pad in itself is not electronic, but it is still a computer accessory. Semantics aside, there is mouse pad with A Friend in Need image on it. This mouse pad also somehow happens to be the one next to my computer.
PC Game
Slightly Subtle Technology, Inc. created a computer poker game around Coolidge's poker dogs. I have not played this game yet, but it looks entertaining just because there are computer generated dogs around a poker table. No word if the dog next to you can pass an ace under the table.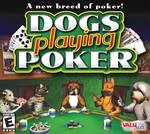 Cursor
For you windows users out there, someone put together an animated cursor of A Friend in Need so you can have that great painting dance on your computer screen all day.

Poker Night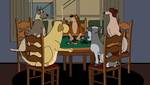 A flash based cartoon of a group of dogs that sit around a poker table and have a card game. Some vulgar and crude scenes, but still kind of entertaining.
---
Copyright © 2001 – 2018 DogsPlayingPoker.org