Clothing
To prove to the strangers around you just how much you enjoy Cassius's work, you can don a garment covered in dogs playing poker for just about any occasion.
Shirts
A nice polyester DPP shirt suitable for casual Friday in the office. It comes in red or black and even a version with pooches partaking in pool.
There are various other T-shirts as well, ranging from lottery advertising to really cheap knockoffs of Coolidge's great pictures. They are not of the quality of the above ones though.
Tie
For those formal occasions, you might need to wear a tie. Do not worry, you are covered.

Cufflinks
And for those even more formal events where you have to wear a suit, there are cufflinks to go along with it.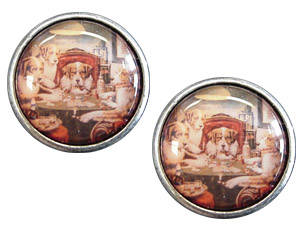 Boxer Shorts
Not all of your DPP wardrobe can be for show though. For comfort and support, there are always boxer shorts with the gambling dogs on them.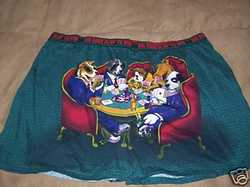 ---
Copyright © 2001-2016 DogsPlayingPoker.org