Full Dog House by Chuck Jones
In continuing to expand my fine art collection, I added the work Full Dog House by Chuck Jones (September 21, 1912—February 22, 2002). This piece depicts a group of cartoon dogs, all originally creations from the artist's Warner Brother's shorts in the 1940s through 1960s, sitting at a table playing poker. The classic ace is being passed under the table, as in the fabled A Friend in Need. This print is from a limited edition set, with only about 500 in existence. Chuck Jones did not actually paint my copy himself, but it was "transferred by serigraph screen to the cell" (standard animation techniques) from the original, where the outline was hand-painted. Each reproduction was then "orally approved by the artist," accompanied with his personal signature.
Characters
The various Warner Brother's dogs enjoying the poker game are (starting on the left and going clockwise):
Who is Chuck Jones?
Chuck Jones, the artist of this cell, was an extraordinary cartooning genius, who helped give birth the classic Warner Brother's characters of Bugs Bunny, Daffy Duck, Elmer Fudd, and Porky the Pig, among others. He personally was responsible for creating at least Road Runner, Wile E. Coyote, Marvin Martian, and Pepe le Pew. Throughout his illustrious sixty year career he animated over 300 films, winning three Oscars along with a 1996 honorary Oscar for Lifetime Achievement. He even earned the distinguished honorary life membership from the Directors Guild of America.
The Painting
Although this print is part of a limited edition set, the entire image does not encompass the master created by Chuck Jones. Only the character's themselves (the seven dogs plus Pussyfoot cat) comprised the original work. The walls, table, chairs, clock, and light are "not part of the limited edition artwork." Others created this larger background, which was "supervised and approved" by Mr Jones.
Finer Points
Although some of these points may be hard to decipher in the image above, the following are some details (of varying interest) from the print:
The time is about 1:12 (a.m.?)
Wanna Bet hangs on the back wall, itself a picture of Warner Brother's characters also playing poker (no dogs), although in an old west style scene
On the other wall hangs the sketch of a dog (possibly Marc Antony)
My copy is the orderly, but otherwise insignificant print 123/500
The images were created in 1997. My certificate of authenticity was signed November 4, 1997
Certificate of Authenticity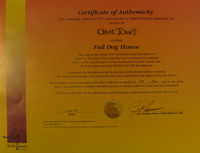 Certificate of Authenticity for "Full Dog House"