Home » Biographies » Coolidge » Pictures
Miscellaneous Pictures
Below are some pictures of Cassius Coolidge himself, and the town in which he lived.
Pictures of Cassius Coolidge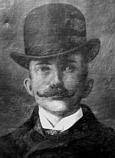 The portrait of Cash located at the Antwerp Library.

Another undated photograph of Coolidge
Below are picture of Antwerp, New York. They are not of any specific sites that relate to Coolidge but give an impression of what the small town looked and felt like.
---
Copyright © 2001-2016 DogsPlayingPoker.org