Home » Biographies » Coolidge » Before and After Marriage
The Tale of Wedded Life In Ten Scenes
Cassius Coolidge published a short series of sketches that depict stages of relationships. So in tune was he with these matters that "no married couple [would be] safe without a copy of this work on their table." Published in 1877, it was available for one dollar, including shipping. Unfortunately, I have only found six scenes from the work, plus its cover, so the last four stages of relationships shall remain a mystery. The known ones are: smitten, betrothed, married, tongue, muscle, and evenings down town. The actual cards are shown below. They are signed "Kash," but "by C.M. Coolidge" is printed below each illustration.
The Tale of Wedded Life In Ten Scenes
Before and After Marriage In Five Acts
Apparently after his self published work, Coolidge was commissioned to create a custom version of his scenes for Jaques, Atwood & Co. in Chicago. On the back of each, however, is an advertisement for Albert Moulton, which sold many items including groceries, furniture, and looking glasses, among others. See below for complete details.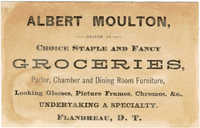 The advertisement on the back of each card
The story was cut from ten scenes to five, each placed on 3″x5″ paper cards. They were drawn by Cassius Coolidge and written by Geo M. Hayes, copyright 1882. The categories that relationships go through in this set are: Love, Engaged, Married, Married for 1 Year, and Married for 5 Years. The cards are available below for your viewing pleasure.
Before and After Marriage in Five Acts