Home » Biographies » Coolidge » Injured Innocence
Injured Innocence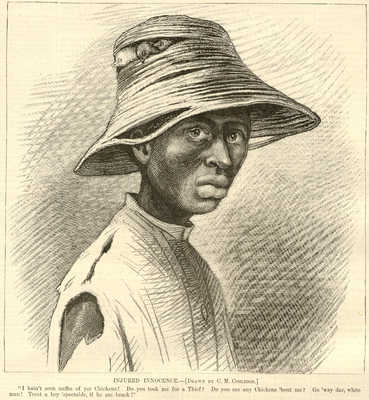 This sketch appeared in the February 9, 1878 edition of Harper's Weekly. The caption at the bottom reads:
I hain't seen nuffin of yer Chickens! Do you took me for a Thief? Do you see any Chickens 'bout me? Go 'way dar, white man! Treat a boy 'spectable, if he am brack!
I am no art critic nor historian, so the exact meaning of the sketch eludes me. At first, it appears to be highlighting racism. When the boys hat is examined, however, three birds are in it. Are these the aforementioned chickens? Judging by Coolidge's parents being abolitionists, it would seem he would be sympathetic to the unjust sufferings of blacks.
---
Copyright © 2001 – 2018 DogsPlayingPoker.org