Columbia Bicycle Advertising Poster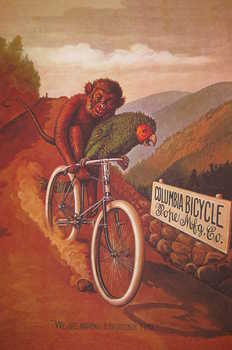 Albert Pope is credited with creating the American bicycling industry. He first imported them from England before manufacturing his own in 1878 through the Columbia Bicycle Company of Massachusetts. He established hundreds of shops around the United States to sell bicycles and this poster was one of the numerous advertisements hung in showrooms. The caption reads "We are having a heavenly time." I am not sure why a monkey and a parakeet on a bike would be persuasive sales literature, but I never majored in marketing. Columbia Bicycles are produced today by the Columbia Manufacturing Company of Westfield, Massachusetts.
The poster was originally painted in 1895 and measured 20x25 inches. This picture can be found in the book 100 Years of Bicycle Posters by Jack Rennert.
---
Copyright © 2001-2016 DogsPlayingPoker.org