Home » Gallery » Dan McManis » Dogs Playing Basketball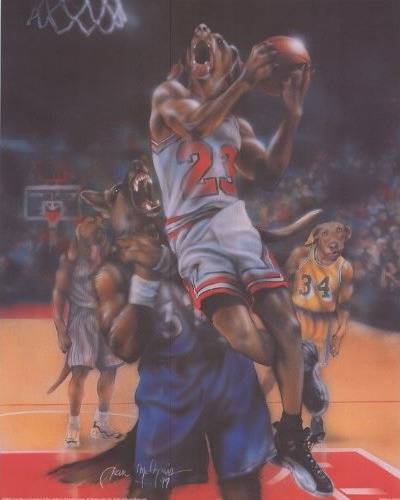 Basketball
Aggressive and gnashing dogs battle each other below the basket. Somehow at least four different team uniforms appear on the court at once, so the game is not regulation (not to mention those dogs on the court).
The canines in this painting bear a very close resemblance to people, with a human muscle structure and posture. The paws (that can grip basketballs), a tail, and a dog's head are the only visible generic changes.
The dog driving for the layup (hopefully a dunk) wears a jersey strikingly similar to Michael Jordan's old one. This Air Jordan canine clone is pushing through a Karl Malone impersonator, who is trying to draw the charge. A Magic Johnson uniform wearing dog looks on from the top of the key. My limited basketball knowledge prevents me from venturing a guess at the identity of the fourth dog in pin stripes.
Until next time, this here Karl Malone.
---
Copyright © 2001 – 2018 DogsPlayingPoker.org